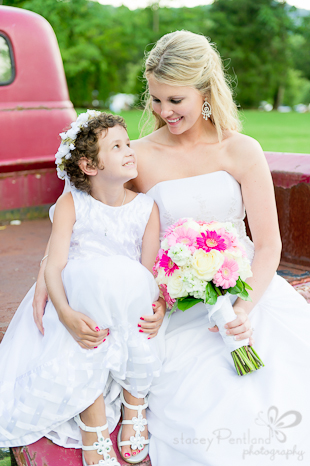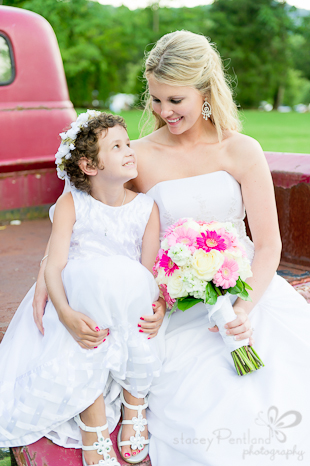 Many of you who have been reading my blog, or those of you who know me, know that our friends' little girl, Cassidy, has been battling leukemia for the past 5 years.  Today, her battle ended and she is now safe in the arms of Jesus and in the arms of her mother, who died of cancer only a couple of weeks before Cassidy was diagnosed.
I had the privilege of having Cassidy as my flower girl in my wedding this past July, and her sisters were my junior bridesmaids.  I will always be so thankful for those wonderful memories, and Steve and I will hold them in our hearts forever.
A few weeks ago the Clarks posted this note on facebook, and I just have to share it with you:
Chad and I overheard Cassidy praying on the baby monitor tonight. It was at midnight after she had woken up to go potty.  She prayed for many to be saved that she knows are not. She prayed for her friends and their families by name.  She prayed that we wouldn't be too sad when she went to Heaven.  She told the Lord to tell her Mommy that she was coming soon and she'd be happy. She prayed for all the cats and dogs.  It is always so sweet to hear her talk to her closest Friend.
When she finished praying, she was singing quietly.  I couldn't quite tell what she was singing.  We love her so much.  It is so hard to believe that Heaven won't be just a little sweeter with her there.  I'm so thankful for every sweet moment we have with her.
Jeni
Please pray for this special family that they will have comfort and peace that only our wonderful Saviour can give.  They have been through so much, and although we are so happy to know that Cassidy is no longer in any pain, it is still hard for those of us that are left behind to grieve.  We can only look forward to the day when we can one day join her in heaven.
Cassidy's funeral will be on Wednesday at 1PM EST and will be live-streamed via the Clarks' church's website:  www.breezyhillbaptistchurch.org.  Breezy Hill Baptist Church has established a Cassidy Clark Fund for those who would like to send donations to assist the Clark family. Donations can be sent to P.O. Box 235 Graniteville, SC 29829. Checks must be made to Breezy Hill Baptist Church. All proceeds go directly to the Clarks.